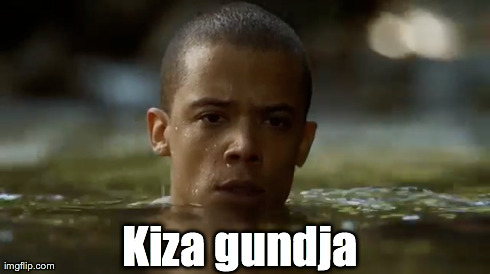 Well, after my mad rush to get my
last entry
posted in time, there was no actual Valyrian in the episode. So all that hassle and rushed typing was for nothing. Then of course
GoT
broke for Memorial Day, so in effect I had two weeks off from my Valyrian scribbles. Between the rest, and the fact that the dialog in this episode was pretty short, I managed to get a draft of this done a couple days ago, and was set to get this entry posted early, until Najahho lured me into
Game of Thrones: Ascent
... and of course now I wind up posting at the very last minute yet again.
So, episode titles. First of all, let me point out that last week's
Vēttria
"arrangements" (as the closest I could come up with for "laws") was incorrect: Papya
pointed out
that it should have been
Vēttra
. I may go correct that after tonight's episode. And of course, since it's been two weeks, I have two new episode titles to present today:
Isōpire Hontes
Mocking Bird.
OK, obviously we don't have any idea how to say "mockingbird" in High Valyrian, so I figured I'd have to go with "mocking bird," as in a bird that literally mocks. Of course we don't have a word for "mock" either. I could think of nothing I could use for "mock" in the sense of "imitate," but I did have an idea for "mock" in the sense of "make fun of": I went with
isōpagon
, the oblique applicative of
sōpagon
"laugh." So the literal meaning of this verb should be "to laugh to/for." Now, perhaps I should have gone with something like
bēusōpagon
"to laugh on/about," but on the other hand we do seem to have
ilimagon
"to mourn" (or at least AV
ilimagho
implies we do.)
Next:
Blēnon Peldiō
The Mountain and the Viper.
In this case we can probably get away with just calling The Viper "Snake." But, um, the less said about that particular storyline the better.
(
Collapse
)